ATTENTION HIGH SCHOOL STUDENTS
CLASS OF 2018, 2019, and 2020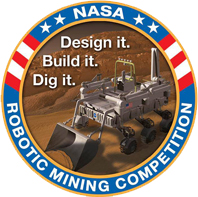 NASA RMC College Recruitment Fair
Wednesday, May 16, 2018 from 11am – 2pm
at the NASA Kennedy Space Center Visitor Complex
COMPLETE THE REGISTRATION BELOW BY MAY 14, 2018 TO ATTEND THIS FREE EVENT!
The NASA Robotic Mining Competition is an event which brings universities and colleges from across the country to compete in building robots capable of excavating regolith simulant (mars and moon-like soil).  Each year, this event also hosts a College Recruitment Fair to connect high school students with universities which offer STEM (Science, Technology, Engineering and Mathematics) majors, and NASA scientists and engineers who can offer advice on educational and career paths.
Participants will get to:
Meet with universities and colleges
Learn about the different STEM majors at universities and colleges across the state and the country.
Meet one-on-one with NASA Scientists and Engineers
Get personalized advice on educational and professional career paths from the actual people working at the Kennedy Space Center in the fields of: Aerospace, Computer Engineering, Electrical Engineering, Information Technology (IT), Life Sciences, Materials, Mining, Robotics, Structural Engineering, and other fields.
Enter into a drawing for a $500 scholarship
All high school sophomore, junior, and senior students who attend the college recruitment fair and complete a participation passport will be entered into a drawing for a college scholarship.  Scholarship checks will be awarded on-site at the conclusion of the event.